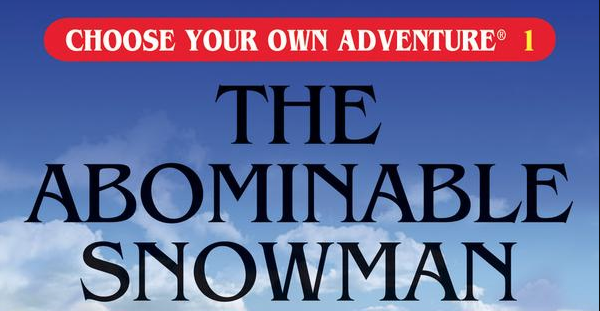 A portion of the book cover for The Abominable Snowman by R.A. Montgomery. (credit: ChooseCo)
The classic children's book series Choose Your Own Adventure is now an interactive Amazon Alexa skill, available today. The release is a partnership between Amazon-owned Audible and ChooseCo, the current owner of the Choose Your Own Adventure brand.
Founded in 2003 by R.A. Montgomery and Shannon Gilligan, ChooseCo has printed new editions of Choose Your Own Adventure books over the years. In the new Alexa skill, the story will be read to you, and then Alexa will beep whenever a choice that branches the narrative comes up. You just speak the choice to proceed.
It also comes with a few simple commands to help you navigate. Critically, and in the spirit of how kids read the books back in the day, you can say "go back" to revert a single scene if you think you've made a bad call. You can say "start over" to go back to the very beginning of the story, and you can say "change story" to switch from the one you're listening to over to another one. Sadly, you can't cheat by reading ahead like many kids have over the years.
Read 5 remaining paragraphs | Comments
Source : https://arstechnica.com/?p=1450793